Brett Cotter, author and founder of Stress Is Gone, specializes in trauma recovery through one-on-one coaching, guided meditation, and stress relief classes.
He has 20-years of hands-on experience helping individuals and families break free from the grips of their pain. Brett has taught his signature classes in Fortune 500 companies, hospitals, schools, non-profits, military bases, and disaster sites.
Brett's gift is helping people heal traumatic memories and overcome fear, stress, and anxiety. His work transforms stressful family dynamics and helps create happy loving homes. He also helps people process grief and restore the spiritual connection with lost loved ones.
In 1999 he started Meditating
and learning powerful healing modalities.
In 2001 he started his coaching practice,
facilitating workshops, and training sessions.
In 2008, he launched Stress Is Gone LLC
to share his relaxation tools including his signature "Stress-Stopper Breathwork" Method and various mobile apps.
In 2013 the Stress is Gone Program becomes Certified by The American Institute of Stress
and is delivered to customers through mobile, online, and physical products.

In 2014, he founded Stress Is Gone 501c3
to better serve veterans, first responders, and communities suffering from a tragedy.
In 2015, he wrote "3 Keys to Managing PTSD"
as a dedication to his father, a Marine Vietnam Veteran and retired NYC Firefighter.
In 2019, he successfully completed a GoFundMe campaign
to distribute a PTSD book to every homeless veteran living in a shelter in New Jersey.
In 2020, Brett received board appointments
to Non-Profit Organizations that serve veterans, first responders, and their families.
Brett is a member of the American Academy of Experts in Traumatic Stress, the National Center for Crisis Management, and Psi Chi International Honor Society in Psychology.
He received training from a 35th generation Shaolin Grand Master and the Himalayan Institute. His approach is an uplifting blend of Eastern and Western philosophies. Brett's program is certified by The American Institute of Stress.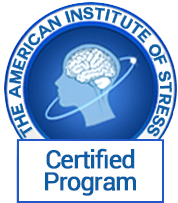 Brett's Work
Learn about the different ways you can work with Brett
Coaching
In his Breakthrough Coaching Sessions, Brett helps clients heal from traumatic life events and restore emotional balance and mental clarity.
He also teaches them how to stop stress and anxiety in seconds. At the end of his sessions, clients often report feeling lighter, clear, free, uplifted, empowered, calm, relieved, and most importantly reconnected to themselves.
Classes, Workshops, and Guided Mediation
Brett's signature classes, workshops, and guided meditations help participants quickly release tension, stop stress, and experience deep peace and inner freedom.
Throughout the experience Brett helps participants merge Stress Stopper Breathwork with their biggest triggers, making everyday stress much less. Delivered through FaceBook Live and RingCentral for a more interactive option.
My Story
Hi, I'm Brett. I'm a stress relief expert, who specializes in trauma recovery, guided meditation, coaching, and group training. I live in Rockland County, NY with my wife and three kids. And here's my story.
I was born and raised in Queens by a hard-working single mom. After school I filled my days with riding dirt bikes, freestyle BMX, skateboarding, playing football, breakdancing, working out, doing graffiti, and getting in trouble. I would do anything to not sit still and feel the pain from my parents' divorce.
I always knew there was something far beyond this reality, when I was young I saw my late grandfather standing right before me.
I wanted to break through to the other side, at times staring in the mirror looking deep into my own eyes, asking myself "who are you?"

This essential question would open a vast space in my mind, but I did not know how to step in at that time.
Later I investigated my question by studying psychology but my unspoken sadness had turned to fear, anger, and jealousy. I still wanted the answer, but I was lost and couldn't see. I definitely was not ready for what was meant to be.
After college, I took my first job in New York City. A year later, I was in L.A. making 8 times my starting salary. Managing and training top sales teams in the country, I achieved my goals but somehow felt Empty.
One night meditation found me and my path turned into a healing journey. Every step I took, the answer took 10 steps toward me. Wondrous teachers helped heal my heart so I can see.
They always pointed me inside, to ask my question where answers reside. I learned to follow my breath, below all the chatter, where an entrance exists. Free in open space, so perfect, only truth emits. I am a conduit of energy and guide to this space, I help others reclaim their essence with self-love and grace. This work is my passion from the depths of my soul, its' purpose is to reconnect you, so you are complete and whole. 
If you're feeling overwhelmed, anxious, or stressed, I promise in our first session the tension will release from your chest. And with a whole new perspective, your worries will rest. To facilitate this work I am truly honored and blessed.